mansard loft conversion wandsworth
mansard loft conversion wandsworth
- case study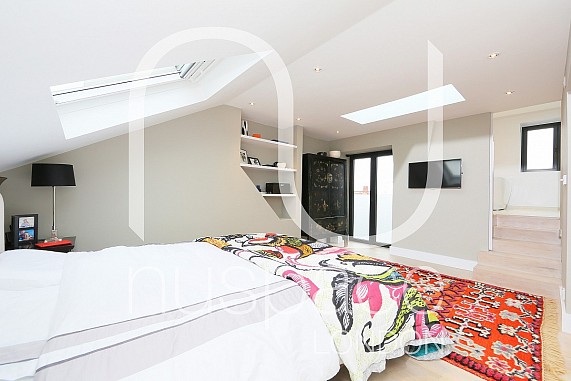 Jane and Steve were first recommended to us by a friend who we had recently done a loft conversion for.
They had earlier seen an award winning loft during a London open house weekend and had some very aspirational ideas with regards to their loft. "We didn't want just an off the self loft conversion that many people seemed to be offering but something more bespoke that would be nice enough for us to want to move into the loft!" said Steve.
Graham initially met with Steve and Jane and they "were impressed with his knowledge of design and his ideas around what was possible. We had met many other companies where doing something different seem to be pain or off topic. We wanted to spend time and effort to get the finishing just right."
As Jane worked in fashion and Steve was a chartered surveyor, they believed that collectively we had a very good eye for what would and wouldn't work. They were initially concerned about whether we would be able to build over the back addition so we assured them this would be possible and would work well with the ensuite running directly from the master loft bedroom to a large bathroom in the back pod.  We put in the planning application and sure enough we were able to get full permission for this.
Jane mentioned that "during the build the site was kept clean and tidy and the timing worked as we had been advised, so we were sufficiently impressed enough to commission additional works around the house and decided to do another bathroom at the same time."
The property now has wonderful views to both the front and back. To the front is a lovely church and to the back, due to the fact that they are on a hill near the Tonsley's, Wembley and beyond can be seen. "The view is something that you don't really think about too much until you are in the space. However, we were very lucky with the view", says Jane. This was helped by having meter square velux windows in white, to blend in better with the décor and folding sliding doors to the rear.
As they didn't want to have PVC or standard timber doors, we suggested they consider aluminum, folding sliding doors. This enabled them to throw open the doors in the summer and get the cross breeze from the veluxs right through the space.  They also opted for two flat roof lights, one that could be opened, which allows them to get up on the roof to clean and maintain it and the windows from time to time. We also built around the chimney and used the recess for both visual and actual storage space. This helps make the room feel slightly bigger and better designed than if it was just squared off as most builders would do to save time.
In the bathroom Steve and Jane decided to go to town a bit as the space allowed enough room for a walk in wetroom shower, double sinks and a separate bath. They didn't need the additional space and just wanted to feel they had a nice bathroom that they could move around in without bumping into each other! They also chose to add under floor heating, a niche in the wall for neat storage of shampoos and led lighting in the flooring. 
In the rest of the house, they chose open tread oak stairs that allowed the light to flood through from the large roof window on the stairs down and through to the floor below so it was not adversely affected by reduced daylight as a result of the conversion. Plus they opted for a glass balustrade to allow even more light and give the loft a consistent contemporary feel.
We also built some fitted wardrobes in the eaves with a slim line handless detail to keep it minimalistic and we moved the dwarf wall forwards so that the bed could fit neatly into the eaves. Some other little touches that we agreed on were sliding 'pocket' doors that disappear into the wall so that most of the time they can remain open but can also be closed for privacy and of course to meet the fire regulations.
Since completing the loft Jane and Steve have frequently recommended us to friends and family and even allow us to arrange viewings of their loft for potential new clients. "We remember what it is like to try and picture the loft prior to plans and its not always easy to think about every small detail, so seeing other similar lofts really helps" says Jane.