l-shaped dormer loft conversion balham
l-shaped dormer loft conversion balham
- case study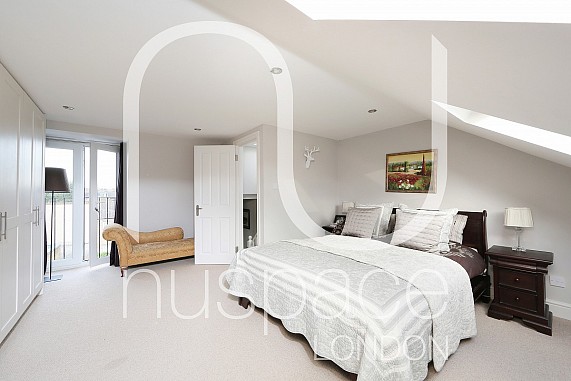 Deborah and her husband Henry, were still living and working in Australia when they initially contacted us so we arranged access to their property with the local estate agent who had been renting it while they were away. Deborah told us that they, "had some very specific needs to be met, as we needed work to start after we returned home in July but wanted it to finish in time for Christmas and before I returned to work in January". She also told us that she "was heavily pregnant with our second child so wanted to find a company that I felt were honest about the true costs of building a loft conversion to eliminate the stresses of spiraling bills!"
Deborah says she chose us for a number of reasons.  "We chose nuspace as their quote was comprehensive, inclusive and competitively priced. All likely extras were quoted for which gave us a much more realistic budget".  Another important factor was that we had recently built a loft conversion for a friend of theirs, so they were fully aware of how we worked and had a truly honest opinion about the experience. They also liked the fact that we were locally based with an office on Fulham Road, particularly considering "lots of the other companies were coming in from other areas like East London and even Brighton."
At the plans stage, we were able to provide professional architects drawings within 7 days of the survey using our RIBA architect. Our architects are not just run of the mill draftsmen, they have been involved on star projects and are specialists in loft conversions and kitchen extensions in London.
Once onsite we quickly got the structure built. Deborah said "we were amazed at how fast the structure went up despite nuspace advising us that this would be the case. It still took us by surprise and we had to get on with shopping for the bathroom quicker than we thought! nuspace continued at a good pace and the foreman was constantly asking questions to make sure the work was exactly as we wished. We understand from friends that many companies will try and simply give off the shelf finishes but we were able to choose some unusual finishes which helped the final look."
Deborah was pleased that we added touches such as "roof lights, under floor heating, a Juliet balcony and changed the heating system. The nuspace plumber also devised an idea to put the boiler in an area we hadn't considered that was completely out of the way and didn't take any space from the loft area at all. This meant we kept all of the space for the wardrobes that we had nuspace fit in the main loft room."
"As I was on maternity leave throughout the build I was able to oversee much of the work, and I found the building team very approachable and helpful in answering my queries and concerns. They turned up on time every day and seemed to work tirelessly which we both felt reassured by". 
During the works Deborah had their second child so with two children under two years of age, she had her hands full. "People thought we were mad undertaking this work with two such small children and I must say I was a bit nervous, but the noise and dust wasn't nearly as bad as I expected and things progressed pretty smoothly throughout".
Deborah says "we were so pleased with the work nuspace did on our loft that we also got them to do our kitchen extension and have recommended them to several friends."