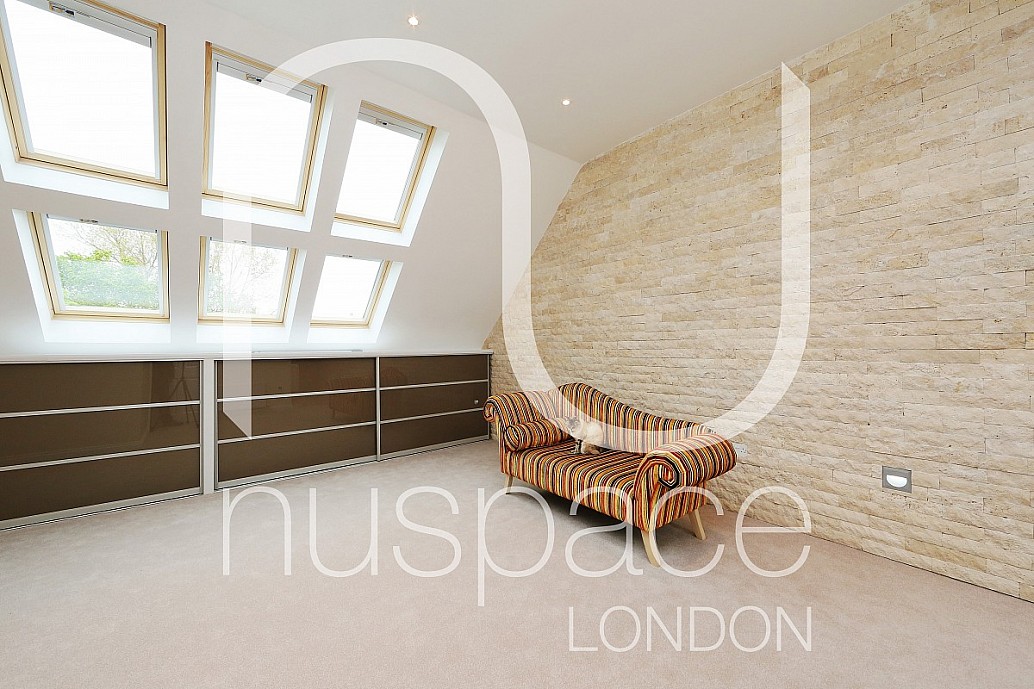 Velux loft conversion for master suite in surrey
With period properties dominating many of England's cityscapes, it's rare to find a loft with high ceilings, and almost unheard of to find a property with 6m of roof space. The vertical height in the loft conversion in Surrey meant that Graham Chappell and his team of London loft conversion professionals were able to do something really special with the space. 'We didn't have to build out a dormer loft conversion or mansard loft conversion at all because the existing space was already so large,' says Graham.
One of nuspace's designers visited the clients home with sketches of their loft conversion ideas and what they had in mind, in both 2D and 3D. This really helped the clients to visualise what the space would look like, and make an informed decision when they decided to go for nuspace above all other London loft companies they had had quotes from. 'We chose nuspace not because they were the cheapest, but we felt they brought a strong design led solution, they also had proven experience working with truss roof which was of particular concern to us,' says homeowner Stephen.
A truss roof differs slightly from traditional period loft roofs as there is a structural framework of timbers that bridge the empty space to offer greater support, where as a normal loft would be completely empty in between. 'It makes it a bit more difficult and time consuming,' says Graham, 'but it's something we've done lots of.'
With such a large loft space to work with, the clients wanted to create a beautiful master suite (awaiting full furnishing at the time of the photo shoot).  'Because there's no dormer, the clients really wanted to maximise the light and views, so we installed as many velux windows as possible,' explains Graham. This resulted in one side of the room being totally dominated by the bank of glass, making it one of the most striking features of the loft conversion in Surrey. Electric black out blinds mean the space can be transformed from a light-flooded haven into a cosy sleep space at the touch of a button. The loft conversion architects also went for unique storage in the eaves, with wood-fronted drawers into the eaves. 'Drawers are quite time consuming as you have to fit lots of pieces together,' says Graham, 'but it made the most sense and was a great use of the space. A textured feature wall that looks like stone adds extra detail, making the space feel well thought out and considered. 
To match the spacious master bedroom in Surrey, London loft experts nuspace, along with their clients, wanted to do something rather special with the bathroom. Multiple textures in a similar colour scheme add visual interest without overcrowding the space. It's rather unusual to fit both a freestanding bathtub and a shower into a bathroom, but by placing the bath in the eaves nuspace were able to achieve it for their client. The loft specialists also added velux windows above the bath, to give that little bit of extra head height when stepping in and out of it.
Part of the reason the clients decided to work with nuspace was the designer's suggestion for their bathroom. Other companies seemed disinterested in doing anything out of the ordinary, and just wanted to offer a standard loft conversion with little room for adding personality and character. By going with nuspace, the clients got a stunning master bathroom with beautiful textured surfaces, top quality appliances and plenty of natural light. 'We agreed a fixed price contract which they kept to, while we roughly knew what we wanted to achieve but the contractor was brilliant at coming up with alternative solutions. The extras that we added were reasonably priced and nothing was too much trouble,' says the client.
In addition to the Surrey loft conversion, nuspace boarded up an extra storage floor and fully insulated it, meaning that none of the height was wasted. 'They overcame some challenges from building regulations to do so,' says Stephen, and took care of all of the loft conversion building regulations, where as many other companies would have left it as dead space.
'nuspace took care of the planning application in Surrey and all the rest of the admin,' says Stephen. 'The contractors were the best we have ever worked with, the team worked really hard to finish on time and on budget and the mess and disruption was minimal. We have no hesitation in highly recommending this company.'