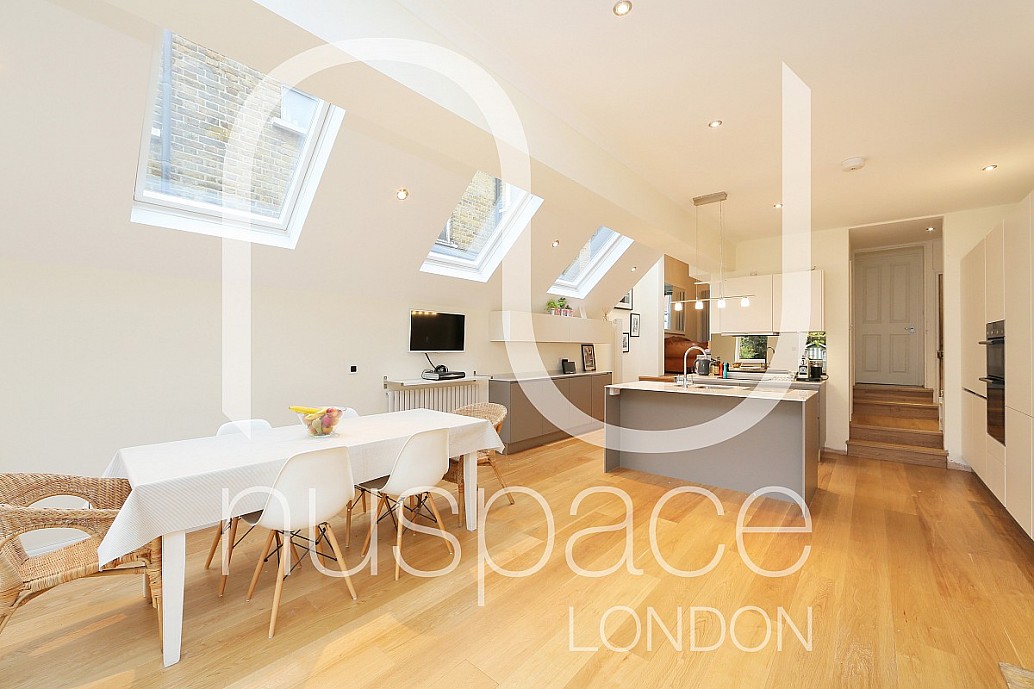 Kitchen side extension with sloping roof and velux windows in chiswick
This terraced property in Chiswick isn't your average Victorian terrace. It's about 20% bigger than what you would expect a normal terraced house to be. This meant that Graham Chappell and his team of loft conversion experts and London kitchen extension specialists at nuspace were able to do something special with the space. The client wanted to create a communal space where members of the family could congregate and socialise whilst cooking, doing homework and dining, leaving the reception room at the front of the house as a more private snug space for the adults. 
 The kitchen extension in Chiswick connects onto a substantial garden through glass bi-fold doors that open all the way. An additional window to the right means that the interior and exterior spaces feel very connected.
The clients went for a side return kitchen extension in a traditional pitched roof style with velux windows to in sure it was in keeping with the style of property, not wanting to go too contemporary with full glazing. 'Planning regulations in Chiswick at the time meant that it was difficult to put the roof higher than 2.1m, which meant we didn't have enough space to go for wall cupboards on the pitched roof side. Instead, we decided to add in an extra shelf to give the wall a focal point, and a bit of additional storage without putting in high units,' explains Graham. The other side of the island is inset, so doubles as a breakfast bar.
 To maximise storage, the team of award winning architects at nuspace installed a big bank of storage all the way down one wall, ensuring that kitchen surfaces stay clean and clutter-free. Open open-plan layout feels modern and contemporary, but with hinds of warm and cosy traditional design in the wood floor and velux windows rather than full glazing. 'The client decided to leave the structural beam exposed. This can be engineered out to have a flush ceiling, but it gets quite expensive,' says Graham, director of nuspace, 'not every client deems it value for money.'
 Little touches like an inset chopping board on the kitchen island, handle-less cabinet doors, contemporary appliances, a slim profile stone worktop and a light well in addition to 3 large velux windows keep the look sleek and unique.
The side return kitchen extension in Chiswick is approximately 2m by 7m, making it a pretty substantial kitchen, particularly for London sizes. 'We had a little difficulty with the stairs leading down into the kitchen,' tells Graham. 'There was a pronounced difference in floor level between the kitchen area and the living room to the front of the house. We used the opportunity to keep the WC in the hallway to create a nice separation between the areas,' he explains. The clients now enjoy an under floor heated spacious kitchen in their terraced home in Chiswick.