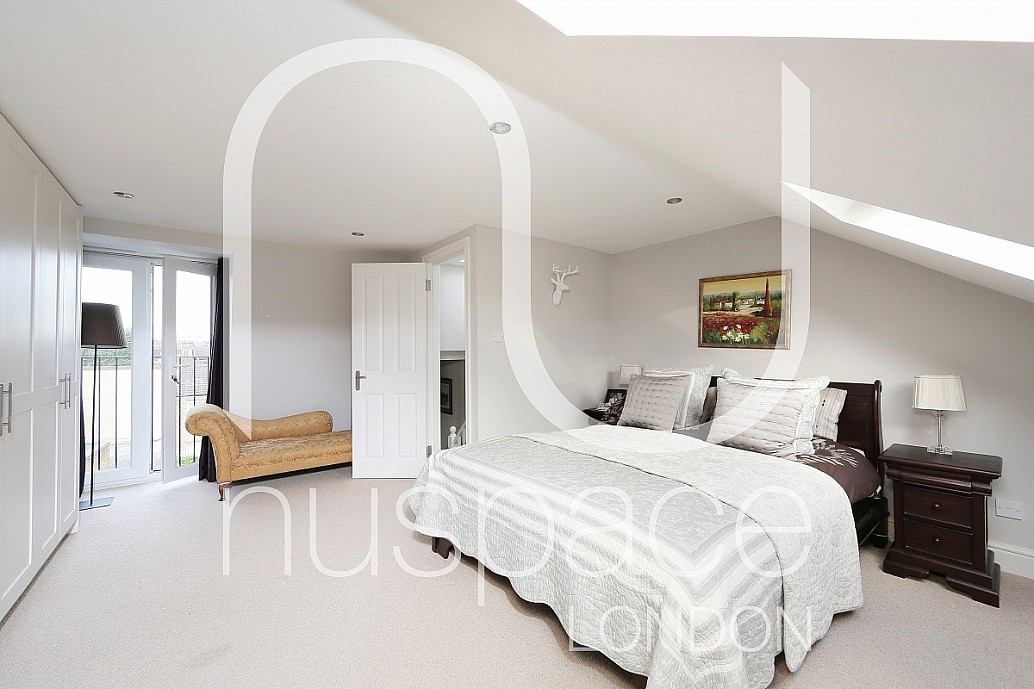 L-shaped dormer loft conversion for a bedroom, bathroom and nursery in balham
After seeing their neighbours and friends convert their loft in Balham so successfully, the owners of this Victorian property in Balham decided to go for their very own L-shaped dormer loft conversion to give them an additional bedroom, bathroom and nursery. The clients were in a rather peculiar situation; they had been living in Australia for work, and the mother was pregnant with their second child.
 'We had some very specific needs to be met, as we needed work to start after we returned home in July but wanted it to finish in time for Christmas and before I returned to work in January,' says Deborah, 'I was heavily pregnant with our second child so wanted to find a company that I felt were honest about the true costs of building a loft conversion to eliminate the stresses of spiralling bills!'
'We chose nuspace as their quote was comprehensive, inclusive and competitively priced. All likely extras were quoted for which gave us a much more realistic budget,' continues Deborah. The clients also liked the fact that the company was locally based on the Fulham Road.
After the first consultation, London loft company nuspace provided architectural drawings sketched up by their in-house award-winning RIBA architect within seven days. The London loft experts then set about taking care of all of the planning applications in Balham and building control notifications in Balham. Once that was all done, the real work started.
 'We were amazed at how fast the structure went up despite nuspace advising us that this would be the case. It still took us by surprise and we had to get on with shopping for the bathroom quicker than we thought! nuspace continued at a good pace and the foreman was constantly asking questions to make sure the work was exactly as we wished,' says Deborah.
 nuspace installed two large velux windows with symmetrical eaves storage underneath each, a Juliet balcony, under floor heating and an integrated wireless Sonos sound system to make sure the loft felt as nice as it looked. 'The nuspace plumber also devised an idea to put the boiler in an area we hadn't considered that was completely out of the way and didn't take any space from the loft area at all. This meant we kept all of the space for the wardrobes that we had nuspace fit in the main loft room,' says Deborah. 
The award winning loft conversion company in London went for a full back addition L-shaped dormer conversion in Balham. 'The full back addition doesn't happen very often, and planners won't normally allow it but we were able to do it in a specific way and get it passed,' says Graham Chappell, owner and managing director of the London loft conversion company. 'What it allows is the whole footprint of the first floor again,' he adds.
 They kept the main master bedroom in the main part of the loft, and then in the back addition they added a further bedroom to be used as a nursery, and an additional bathroom. 'To gain two bedrooms and a bathroom in a property this size is pretty good going,' says Graham, 'and it meant we were able to give the clients exactly what they wanted in the loft, before going on to complete their kitchen extension and renovation in Balham.'
The bathroom, also in the back addition, was chosen by the clients. 'We understand from friends that many companies will try and simply give off the shelf finishes, but we were able to choose some unusual finishes which helped the final look,' says Deborah. They kept it sleek and contemporary with a textured grey tile and contemporary appliances. A niche in build in the shower makes for easy shampoo storage, and the glass shower screen makes the space look and feel much bigger.
 'As I was on maternity leave throughout the build I was able to oversee much of the work, and I found the building team very approachable and helpful in answering my queries and concerns. They turned up on time every day and seemed to work tirelessly which we both felt reassured by,' explains Deborah, '"we were so pleased with the work nuspace did on our loft that we also got them to do our kitchen extension and have recommended them to several friends.'