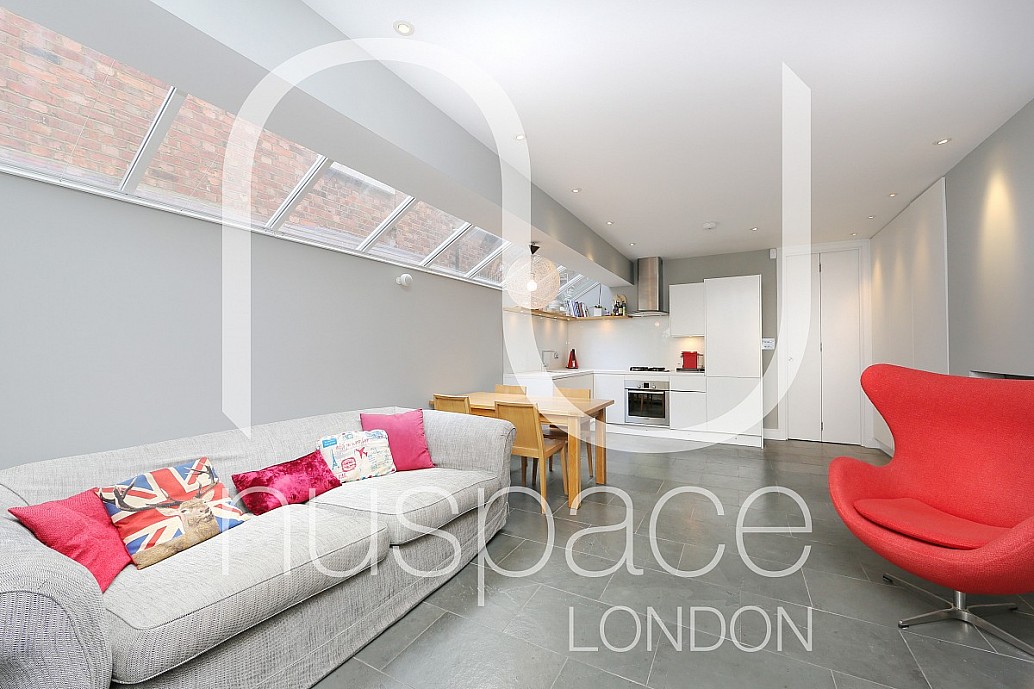 Side return kitchen extension in sands end in a victorian terrace ground floor flat
This side return extension in the Sands End are of Fulham was part of a complete refurbishment of a ground floor flat in a Victorian terraced property. The project was completed around 5 years ago, and the homeowner happened to be Graham Chappell himself, director of London loft company nuspace. Before Graham began the work on his home, it had been a dark, dingy and poorly designed one bedroom flat, which he transformed into a bright and airy, open plan first floor flat with garden. 'We dug down 200ml into the ground to increase volume,' explains Graham, so it's no wonder it feels more spacious with such lovely high ceilings.
 He elected to go for a fully glazed kitchen side return extension in Fulham with slim line profiles that he painted in a light colour to reduce their impact and give the illusion of continuous glazing. 'I went for thinner glazing and more bars because I was trying to keep the budget down at that point, and larger panes of glass are inevitably more expensive,' says Graham, 'it was also a decision in terms of thinking about the value of the property and the sort of specification it required,' he adds, 'but if I were to do it again I'd probably go for maximum glass with minimal framework, maybe around 3 breaks.' Adding more breaks is a way to get a similar aesthetic whilst on a tighter budget. Another way that Graham kept the budget down was having the steal beam (that marks the old boundary) hanging down rather than flush. 'I could have made it flush, but that required going into the floors above and because I didn't own the whole property, that wasn't possible, and it would have pushed the budget up too, but it does give it a consistent calming feeling to have the ceiling at one level' he explains.
 'We made the kitchen from Ikea carcasses to keep the cost low, and then spent a bit more on the visible parts,' says Graham. A composite stone worktop with a white back painted glass splashback and solid oak shelf with recessed LED lighting keep it looking sleek and luxurious. 'We made the doors ourselves and factor spray painted them, which meant we kept the cost down and were able to get a bespoke effect,' says Graham. A couple of red appliances, like a Porche kettle, add a splash of colour.
Increasing the ceiling height meant that Graham was able to go for tall 2.6m doors. 'The full height gives you different perspectives, and you don't have the downstander stopping the visual through to the garden as you walk into the flat,' says Graham. This draws the eye is drawn to the outside, making the space feel much larger than it actually is. Full height cupboards also provide plenty of storage space for kitchen stuff, as well as all of the audio-visual equipment for the flat.
'I had to move out while the work was being done as it was a complete renovation of the entire flat,' explains Graham, 'it took about 5 months for the whole thing to be completed.' He went with a very high specification in some areas, whilst being more budget conscious in others. 'There's under floor heating throughout, a heated mirror in the bathroom so it doesn't steam up, a Duravit Starck WC and bath with a 90 degree angle on one side so it functions equally well as a shower. We also installed cat6 cable throughout the property to allow audio-visual to be streamed around the home through speakers hidden in the ceilings,' Graham says. A sonos system even means that music can be zoned throughout the built in speakers – so a different song can be played in different rooms – creating a unique atmosphere in each. 'If someone had decided to be more budget conscious, a side return extension could be done for around £60,000 inc. VAT (for a fully finished construction, but no painting, tiling flooring etc.) and from there you can decide how far to go with the finishes,' explains Graham.
Natural slate in the kitchen continues out into the garden to break the boundaries of internal and external. It's at exactly the same level and in the same material, so on a hot summers day the doors can be opened up so the patio feels like an extension of the internal living space. A water feature in the garden takes away city noises to give a calm and soothing city oasis. Graham added a full height window to the right of the balcony doors, 'I knew I wanted to have furniture there, and you wouldn't normally put glass where you were having furniture, but I wanted to create a visual connection so you see more of the garden so I installed a window that followed the pitch of the roof to connect the inside to the out,' he explains. 'Planning restrictions in Fulham at the time enabled you to build to 2.1m on the boundary so as not to block light to the neighbour,' says Graham, 'so that's exactly what we did.' Careful design touches like an iconic Arne Jacobsen egg chair with a TV console in the same colour, and a small Flos pendant light in the corner give the flat that designer edge without going over the top.
 As a result of careful budgeting, and knowing where to save and where to spend, Graham was able to create a cool and contemporary pad in the city without breaking the bank. The total budget for the kitchen extension and total renovation of the entire flat came in at approx. £150,000.