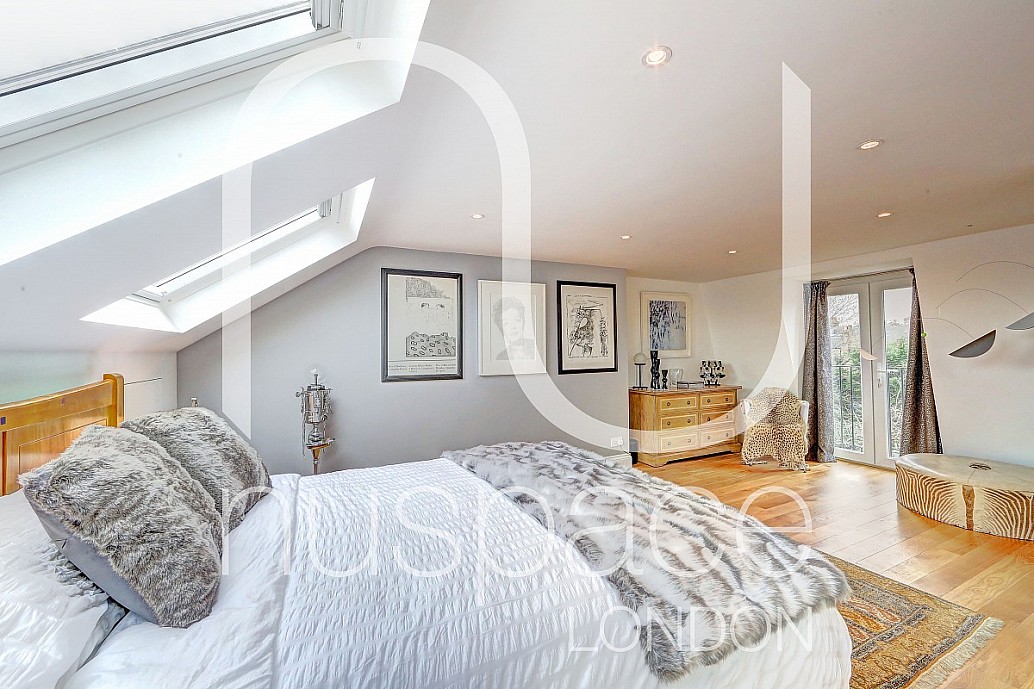 Mansard loft conversion in Wandsworth with Juliette balcony
With space at a premium across the city, loft conversions in London are no rare sight. For a creative couple living in Southfields village, Wimbledon in the London borough of Wandsworth, it made total sense to convert their dusty old attic into an additional living space.  In fact, when the project was finished, they liked their Wandsworth loft conversion so much that they decided to make it their master bedroom and moved up there almost immediately.
'This London loft conversion is pretty conventional for the city, about 70% of our projects look a lot like this in terms of structure,' explains Graham Chappell, Director of loft specialist company nuspace. 'It was very straightforward, with a few little twists and touches to make it look really nice,' he adds. Before Graham arrived with his team of loft conversion architects and specialists, the space was used for storage and was by no means fulfilling its full potential.  The clients decided to go for a mansard loft conversion to make the best use of the space, and they gained an en suite master bedroom in the process.
'With a loft conversion, the only bit that remains from the original loft is the front pitch, everything else is brand new construction,' explains Graham about the loft conversion process, 'so you're cleaning out as you go along.' This loft conversion in Wandsworth was particularly speedy, and took just 7-8 weeks. The planning process was straightforward. 'It took about three months to gain planning permission,' says Graham, 'which is typical for London loft conversions, particularly loft conversions in Wandsworth.' Graham was able to develop the whole roof for this project, where as many other London boroughs don't let you build out past half of the back addition.
The windows were designed to be equidistant between the party walls to give the room a nice sense of symmetry. A key part of the brief was to bring in plenty of light, and the two velux windows with double doors onto the Juliet balcony certainly do just that, the dual aspect bringing in maximum light. During the summer, the balcony doors can be thrown open to get a cross breeze through on hot summer days. And what's more, to ensure that the downstairs landing didn't feel too dark after the conversion, Graham and his team installed a huge skylight over the stairwell to allow natural light downstairs to the landing.
Storage was important, and mirrored sliding doors provide ample room for clothes, and make the room feel bigger at the same time. The clients' creative sides were able to come out in the soft furnishings to enable their personality to shine through without anything too permanent, and the wood floor brings warmth to the space whilst making it easy to clean.
The client went for spotlights as the ceiling is relatively low, but Graham says, 'there's a trend back towards not having spotlights now and having side lamps that can be turned on from a central switch on the wall to create a calm atmosphere.' Talk to Graham about upmarket lighting options to enhance your loft!
The clients wanted a sleek and contemporary bathroom. A spacious rain shower adds a touch of luxury and means they can enjoy their morning routine in style. 'A bathroom at loft level is pretty normal,' says Graham, 'the only thing that needs to be different is the moisture resistant plaster board, but other than that there's not a big additional cost to putting a bathroom in once all of the fixtures and fittings are taken into account,' he adds. 'One thing that it is important to consider is the soil stack – the waste pipe at the back – it doesn't limit where the bathroom can go but it is something to take into account during the design process,' he explains.
Unlike most other loft companies in London, because nuspace also have a high-end architectural practice on board and enlist the services of an award-winning RIBA architect to oversee the design of every property, they guarantee you'll make the very most of every potential inch. Loft conversions in Wandsworth add approximately £800 per sq ft in terms of value, and at 250 sq ft this loft conversion added approximately £200,000 to the value of this property, and it cost less than £50,000 ­– so it really is something worth considering if you have an unloved loft in need of a makeover.