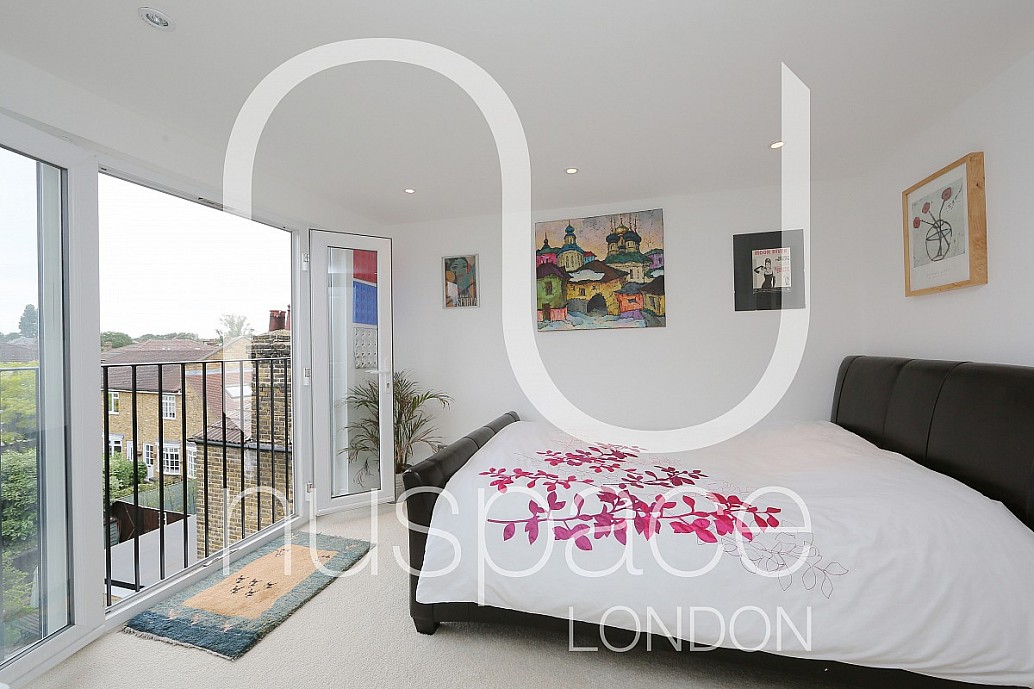 hip-to-gable loft conversion in wimbledon to give one bedroom, one bathroom and one study
The clients for this project were a large family living in a semi-detached property in Wimbledon. Clive Pickering and family wanted to gain a little more living space, particularly because Clive often works from home. He wanted to create a separate space away from the buzz of the rest of the house where he could shut the door and get some work done, and so went for a loft conversion in Wimbledon. 'I work from home in my loft 1-3 times a week and I am thrilled with it! Excellent job and excellent value for money,' says Clive, 'I should have done it years ago.'
 The works done included a hip-to-gable loft conversion in Wimbledon to give one bedroom, one bathroom and one study. 'Hip-to-gable is where you build out to straighten the side of the roof where it had previously pitched in,' explains Graham Chappell, managing director of London loft conversion company nuspace. 'It's quite normal to get a hip to gable loft conversion, unless the property is in a conservation area, which this particular part of Wimbledon is not,' he adds.
In the bedroom, award-winning loft conversion company nuspace added double-sized French doors. Coupled with the already elevated position of the house in Wimbledon, the view from the bed is rather spectacular. 'You get a picture frame view of the garden with these doors, which are almost three metres wide,' he explains. 'What's more, it didn't add massively to the cost of the project, but gave a big impact in terms of the feel of the room.'
With such a big family, Clive was keen to fit two rooms upstairs, as well as a bathroom. As it's just a regular sized loft, this required a fair bit of planning, creativity and research into loft conversion ideas to make the best use of the space. 'Clive was very clued up and knew exactly what he was talking about and what he wanted, so he came to us with quite a detailed brief about how to fit it all in,' explains Graham. 'Graham was very attentive and made a number of design suggestions, all of which I adopted,' says Clive. Together, they were able to achieve maximum efficiency of space, with features such as built in storage into the pitch in the study, and a significant amount of eaves storage too.
Graham and his team of loft conversion architects were also able to fit in a cosy bathroom to the rear, complete with a shower so that it's totally functional. Having a bathroom and two rooms in the loft gives the family a significant degree of flexibility in terms of how they use the home, and thanks to nuspace's experience in Wimbledon the loft conversion planning permissions and building regulations were all dealt with smoothly.
In the hallway, the London loft experts added in a big skylight. 'You should always put a skylight there when you land lock a staircase,' explains Graham, 'it's very important to have natural light coming down the stairs to the lower landing, otherwise it can end up feeling rather dark.' Nuspace always recommend having as big a skylight here as possible, 'for some clients, we have even done wall to wall structural glazing,' Graham adds.
'Getting the details right was important to nuspace,' tells Clive, 'with Graham I felt sure I would get a quality product… for example, the matching of my existing staircase to the new one was absolutely perfect, and the curved plastering on the staircase was a nice addition - some companies square it off and you feel you may bump your head as you walk downstairs, nuspace made it follow the natural curve of the stairs,' he adds.
Clive was thrilled with his loft conversion in Wimbledon, 'the price is extremely competitive… time keeping was fantastic…planning and management was good – building control was taken care of and milestone payments were structured and clear and certificates were delivered as agreed upfront. It was a very slick operation, all in all, an extremely professional job with some nice additional touches,' says the client.  
The semi-detached property in Wimbledon was previously 3 bedrooms, and now has 5 bedrooms. The family also had an extension done after their loft conversion in Wimbledon. 'It's always sensible to start with the loft and work down clean,' advises Graham. For more information and to book in your free consultation, please contact nuspace on 020 3405 3480.